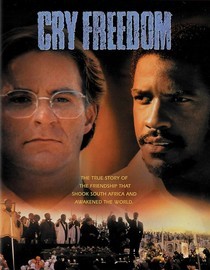 So, if you hadn't noticed I have developed a slight obsession with movies about Africa over the past few months. Particularly Ethiopia of course, but there are only so many I can find on Ethiopia in english. So when Netflix offers me a movie regarding apartheid in South Africa or troubles in Uganda click click to my queue. The latest installment was "Cry Freedom" with Denzel Washington (gush).
The movie is about a man named Steven Biko (Washington) who was a black nationalist during the 70's segregated South Africa. This is a true story based on the books
Biko
and
Asking for Trouble
written by journalist Don Woods, who is played by Kevin Kline. The movie shows Biko being jailed and killed for his political beliefs and desire for equality in S Africa. Woods is initially skeptical of Biko but when he meets him and they become friends Woods learns more about his homeland than he wished to know. This film, from 1987, earned Denzel his first Oscar acknowledgement.
Though I knew of issues in South Africa, ie Nelson Mandela and
Invictus
, I believe I got more of a history lesson in this movie than I have had so far. I am looking forward to watching more movies about Apartheid and hope to learn more about what it was about and how it came to an end.
You can watch this movie streaming on Netflix here
Rent Cry Freedom
or buy it here